Hybrid AC/ DC Energy Systems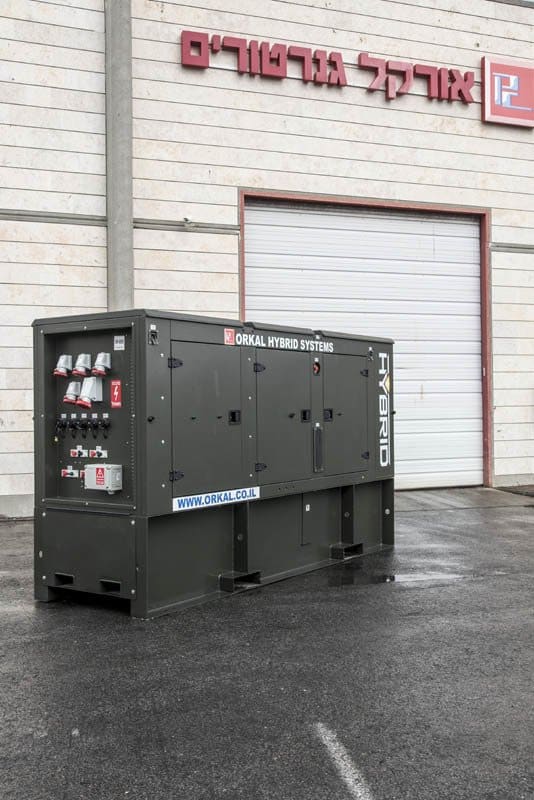 Independent hybrid energy systems for power production, storage, and distribution at different voltages per the project requirements. 
Following a lengthy learning and testing process, Orkal Industries and Machinery Ltd. has developed an extraordinarily efficient energy system that generates maximum power and minimum cost and environmental pollution, and has even been patented under Patent No. 266432.
The system comprises a solar panel array, generator, batteries, transformers, charges, and a smart synchronization system for energy management, switching, and distribution as needed. 
Civilian and military establishments have obtained 60-90% savings in fuel consumption and substantial savings on maintenance, procurement, servicing, and fuel haulage by tankers. 
A number of models of the system, ranging in size from 60 to 1,000 ampere DC are marketed. 
Orkal's hybrid system meets energy efficient and green energy definitions

The system saves diesel consumption by 60-90% compared with equivalent ordinary generators, according to long-term tests conducted in summer and winter

Part of the hybrid system uses a non-polluting lithium-iron batteries bank, which required no servicing

The system is mobile, produced as a single unit (changes can be made on demand), which includes an auxiliary charger, fast-charging and slow-discharging batteries bank, and diesel fuel tank. The system can be easily moved and transported if necessary.

The system generates single-phase and three-phase AC and DC power

The hybrid system operates at a very low noise level, pursuant to the Israeli environmental standards for populated areas, which gives it a significant operational edge

The system has an extremely high safety standard

The system's power supply is easily hooked up by plug and socket

Synchronization and remote control options

The IDF and Israeli and foreign military industries already use the system

Solar panels and wind sails may be added if necessary.